Honored to Be Voted "Best Of" in the North Bay Bohemian in 2018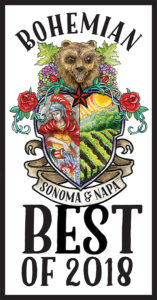 Thank You North Bay Bohemian Readers!
My deepest thanks to those who voted me "Best Marriage and Family Therapist" in the North Bay Bohemian this year. It is an honor and a privilege to do the work that I do.
One of the many reasons I love doing therapy with individuals and couples is the universal way in which, at our core, we all have similar challenges and struggles while, at the same time, the essence of who we are remains as unique and individual as our personal fingerprints.  I am glad to have chosen a career in which there is always more to learn, new ways to grow through my work and people on my caseload who renew my faith in the world and community.
I often reflect upon the courage it takes to participate in therapy. After all, many areas of focus are painful and the actual outcome can feel very unknown when a person begins therapy. Even with a clear goal in mind, it involves a feeling of risk. For example, therapy has been shown to be most effective when the match between client and therapist is a good fit. It is not a one size fits all endeavor. Finding a therapist who is a "good fit" is  an endeavor well worth the time and energy spent.
Thanks to Bohemian readers, blog readers and those who have decided that I am "a good fit" and chosen to work with me in my therapy practice. Thanks also to my many colleagues who are a source of support, insight and growth in the work I do.